Good news stories and innovation from the homecare sector – Late-April 2021
Here are some of the good news stories and examples of innovation our members have been sharing about homecare on social media in the past few weeks. If you'd like to be featured in a future blog send in your good news stories and examples of innovation to [email protected]
Bluebird Care Bristol careworker's daughter dresses as careworker on Hero Day
​
250 bespoke door plaques created by client of Extra Care Charitable Trust
A grandfather has created more than 250 bespoke wooden number plaques for each of the residents living at ExtraCare's Longbridge Retirement Village in Birmingham.
Kenneth Whitlock, known fondly as 'Ken the Pen', aged 89, and a resident at The ExtraCare Charitable Trust's Longbridge Retirement Village, started the project just over a year ago as the country entered the first Covid-19 lockdown.
Ken comments: "Drawing has always been a huge part of my life, from childhood, from being at Mosely Art School. I have always drawn gifts for people, like when they were leaving and across most of the caravan parks in the country – that's where I first started to use wood to create plaques, people would always want me to make one for their caravans. It's just something I love doing."
Lunch trips for clients and careworkers at Alcedo Care Blackpool
Plant pot painting competition for clients at Caremark Havering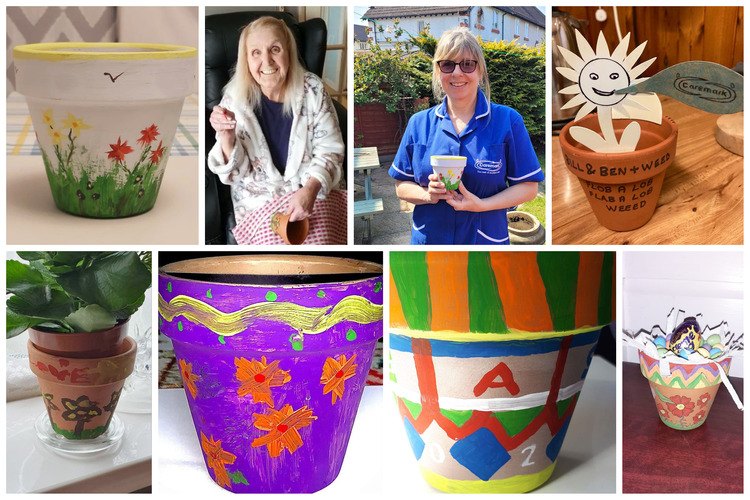 Caremark Havering have given all their clients and careworkers flowerpots, paint and brushes to work on their own designs as part of a competition. Managing Director Bal Bains had this to say: "We want the clients and carers to feel as though they are part of something bigger. By doing the same activity they all have something mutual to talk and laugh about and they have a sense of community knowing that others are doing what they are doing. It's been lovely to see the designs and hear how they have all got on."
Make-up treat for Right at Home Borehamwood client
90th birthday for Bridgewater Homecare client
Special bond between careworker and client at Complete Care Agency
100th birthday for Home Instead Chichester client
Fosse Healthcare and Birdie launch new pilot scheme to report early warning signs of health risks.
Nottinghamshire home care provider, Fosse Healthcare, has launched its early deterioration pilot scheme in partnership with UKHCA commercial members Birdie, amongst others.
Fosse staff, as pictured above, have been trained to identify early signs of deterioration and to take clinical observations, to the benefit of clinicians and primary care professionals. The aim of the scheme is to enable health risks to be identified earlier and allow for a clinical response to be made sooner. This should therefore also mean better outcomes for care recipients, reduced pressure clinical services, and help people live at home independently, for longer.
Click here for the full story.
And finally, we've saved this one at the end of the blog to start your weekend in the best way possible!
Awards delight for Guardian Angel Carers
Guardian Angel Carers celebrate being nominated for the Care Employer of the Year award in the Great British Care Awards.